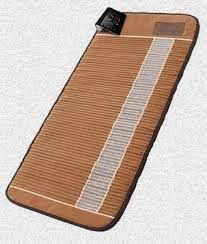 Amethyst BioMat Far Infrared Treatment - 30min - $20 - Save $10
The Amethyst BioMat is a narrow mattress filled with pockets of smooth amethyst stones. When turned on, it sends a gentle heating current through the stones, which causes a release of negative ions and far infrared rays that penetrate deeply into the body. The FDA supports many benefits of laying on this mattress including an increase circulation and relief from:
Minor muscle pain
Minor joint pain and stiffness
Joint pain associated with arthritis
Muscle spasms
Minor sprains or strains
Minor muscular back pain
Reduces stress and fatigue
In addition, the BioMat may also :
Sooth and relax nerves
Strengthen the immune system
Improve sleep quality (if associated with pain relief)
Reduce inflammation (where applied)
Increase tissue oxygen (due to increased circulation where applied)
Heat setting is adjustable to your comfort level.
Regular price $30
In order to receive the May special price, appointment must be booked for May 1 - May 31. Discount will be applied during appointment checkout.