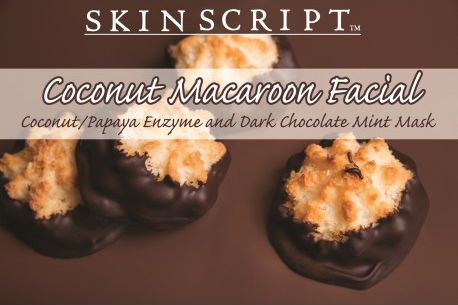 Coconut Macaroon Facial - 60 minutes - $65 member/$80 nonmember
Confection connoisseurs will enjoy the scents of coconut and chocolate in this facial. Coconut and papaya enzymes dissolve dead skin cells revealing healthy, soft skin. Cocoa, glycerin and squalane are excellent emollients, lubricants and humectants to draw moisture to dry, flaky skin. Vitamin E is an excellent anti-aging antioxidant. This decadent facial combines the sweetness of coconut and the rich aroma and texture of dark chocolate! Suitable for all skin types, this treatment will reveal softer, smoother skin as well as intensively hydrate and tone the skin. The Coconut Macaroon facial begins with two botanical cleanses, an enzyme exfoliation with Coconut Papaya, a relaxing foot massage while the enzyme lifts dead skin, extractions if necessary, face, neck, shoulder and décolleté massage with nourishing desert botanical organic jojoba oil, a Dark Chocolate Mint treatment mask with a hand massage and moisturizer/SPF. Regular price $90.
In order to receive the February Special price, appointment must be booked for February 1 - February 28. Discount will be applied during appointment checkout.