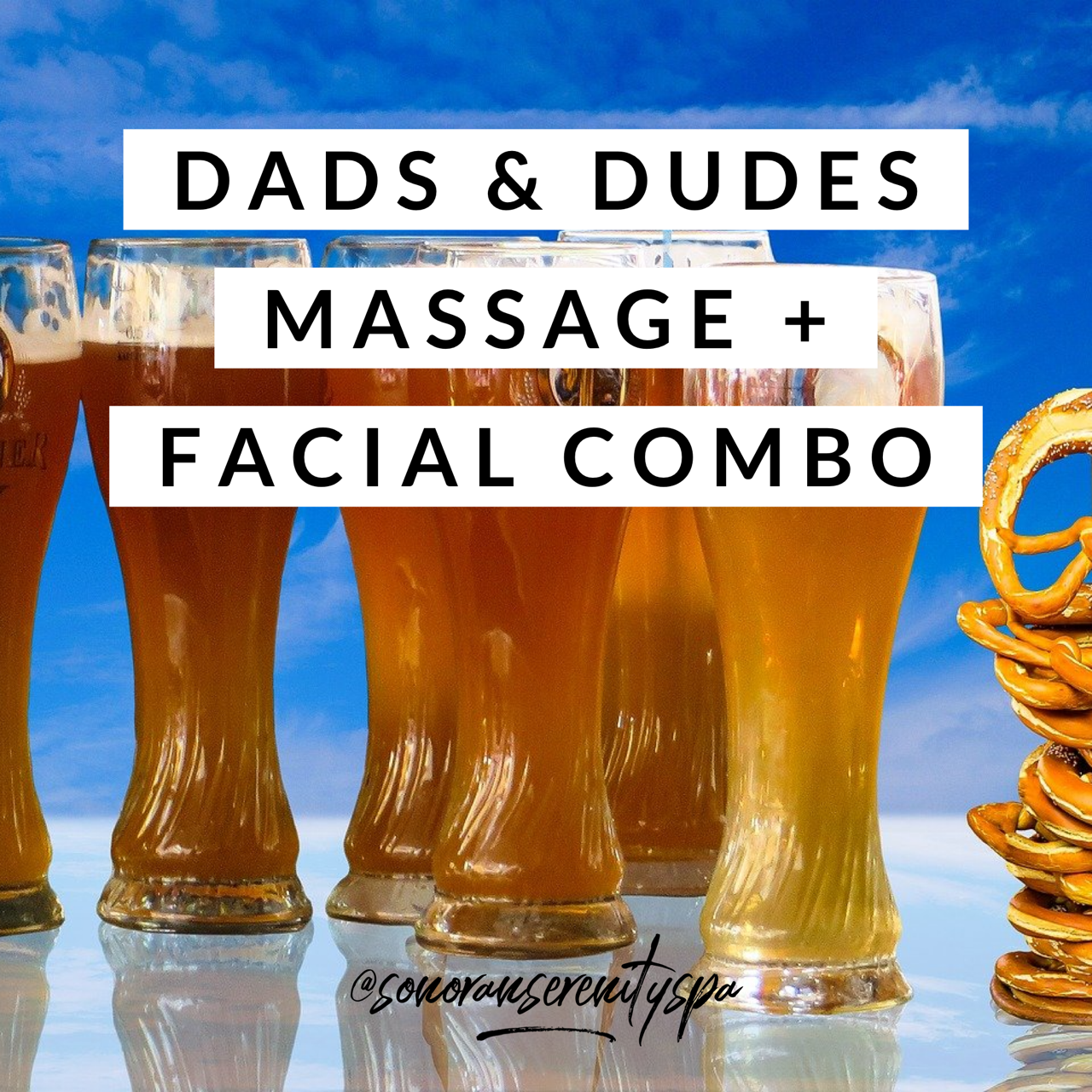 Father's Day Special - Dads & Dudes Massage + Facial Combo - 2 1/4 hours - $200
June is the time to celebrate the guys in our life. Our brand new Dads and Dudes Massage + Facial combo is perfect for Father's Day or for any day. Designed especially for guys, this new Father's Day treat is a delight for the senses. The treatment begins with a wonderful 60 minute aromatherapy or CBD aromatherapy massage* to lull you into a state of extreme relaxation. Then enjoy our Old Fashioned Facial with a hand and foot treatment. The health benefits of this French Oak Smoked Bourbon facial boosts your antioxidant levels to new heights! The cumulative effect of its antioxidant power could help reduce the risk of aging (ok, the effects of aging). French Oak treats both surface skin as well as hair follicles on men's beards. X-pressin™ is an advanced technology papain enzyme which gently digests the surface dead, scaly cells that make our skin feel rough. This superior enzyme provides a gentle alternative to abrasive and irritating exfoliation (especially for men just after shaving). This brick-and-mortar facial targets the mortar (corneodesmodomes) and digests the proteins and lipids to release the bricks (corneocytes/cells) to reveal fresh healthy skin. The Black Pepper Detox Mask has a warm, spicy aroma and increases blood circulation (detoxification) to the skin. The enzyme and mask have a Summer Complex of (1) SymCalmin® , to reduce heat rash, (2) Vitamin C to address dark spots and (3) Dermasyr10™ to manage breakouts. Designed for men and their facial beard hair follicles but can be used on all clientele. Every recipient will receive a gift bag with some fun guy-friendly treats!
* Massage is a relaxation massage. Therapeutic massage is available with certain practitioners for an additional fee and must be requested upon booking.
* Package must be prepaid and the booking set during the month of June.
*The appointment itself can be scheduled for any date between June 1 – September 30. Please call 480-772-3297 to book.
Once purchased, please contact the spa with the name of the person receiving the special.
* Service value $250